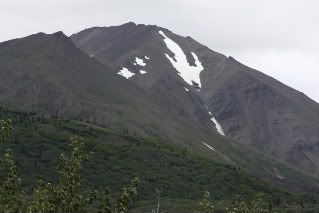 This summer, we have set aside one week a month for camping trips. Our June trip was scheduled for Kathleen Lake, in Kluane National Park. We have always wanted to camp there, it is a beautiful location with a lake full of record size trout. We travelled to Haines Junction to meet up with our friends who were coming with us, and T.J went to the Visitor Centre to buy our federal fishing and camping permits.
Camping in the Yukon is cheap. We buy a $50.00 camping permit every year that allows up to camp in any territorial campground all summer. The campgrounds are generally well kept, clean, with stocked wood piles and majestic views. Because Kathleen Lake is in Kluane National Park, though, we can't go there with our Territorial camping permit. We can't fish there, either, with our Territorial licenses. So off to the visitor centre T.J went, to buy our weekend permits. A season federal fishing license is $10 per day or $35.00 for the season per person. Kids under 14 can fish for free in the Yukon, but not at Kathleen Lake. They had to buy permits, too. Camping was $17 per night. We couldn't believe it! It was going to cost us about $140.00 in fishing licenses and almost $100 to camp for 5 nights.
Across and up the road a bit from Kathleen Lake is Desdeash (sp?) Lake. There is a territorial campsite there, and great fishing for Lake Trout and Northern Pike. It sits out on a point, and tends to be pretty windy, but at least that keeps the bugs away. We spent 4 nights there, and then travelled back to Haines Junction to camp for 2 nights at Pine Lake, because the kids really wanted to go tubing and Desdeash was too rough. Pine Lake has a nice sandy beach and a great dock for launching oneself into the water.
We had a great time catching up with great friends, and look forward to July's camping week at Congdon Creek Campground on Kluane Lake. Its also a Territorial Campground, just outside the park, so it won't cost us an arm and a leg to spend some time there.
Federal Government, Yukoners should be able to enjoy our National Park with our Territorial camping and fishing permits!!